Heck, another break from blogging. Not intentional. Going back to work has swallowed all my time.
Work is inconvenient. It gets in the way of my knitting, reading and other enjoyments.
I have been knitting. I log most of my progress on Ravelry, but here are the edited highlights:
Camouflage stole in Malabrigo Sock Yarn, Turner shade.
This was an easy knit and will be useful. I had knitted half of it and then had to pull it back again as the second skein was much darker than the first. The result is a camouflage-coloured evening stole suitable for your everyday combat situation. Nevermind. It feels nice.
A bag for iPod Touch. To hold it safely when on the Treadmill.
Russula beret in Twilley's Freedom Spirit. I think I'll get a lot of wear out of this during the winter and may just have found a hat shape that suits me.
Ishbel in Socks That Rock, Lover's Leap. This knit up amazingly quickly.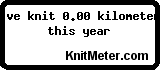 It feels like more.